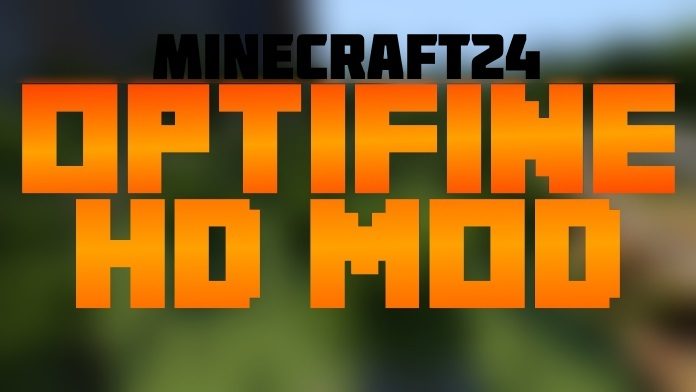 Optifine HD 1.12.2/1.12.1 for Minecraft 1.12.2, 1.12.1, 1.12, 1.11.2, 1.10.2 versions such as HD U C5 and Ultra C2 for all versions of Minecraft. Even for 1.10, 1.9.4 and most previous versions is a very, very popular Mod which can help you getting more FPS in Minecraft. However, for servers the owner must have Optifine Mod installed on the server. Optifine HD may be the perfect mod for you if you need more fps or/and want to use high definition HD, maybe also 3D Resource Packs. Update: Optifine has been updated for Minecraft 1.12.1! Feel free to download it from the official download links below! Full installation guide is also provided by us.
The OptiFine HD for Minecraft version 1.12.2, 1.12.1, 1.12, 1.11.2, mostly used because of it's FPS-boosting feature, HD textures support or Connected Textures, Variable Render Distance, Antialiasing is a very helpful mod that adjustes Minecraft effectively. While it makes Minecraft use less resources to run more smoothly. It enables you to use High Definition Resource (Texture) Packs without using any other mod. Usually it can triple or at least double your FPS. 
Optifine 1.12.2/1.12.1 Changelog
OptiFine 1.12.1_HD_U_C5
- compatible with Forge #2446
(07.08.2017)
OptiFine 1.12_HD_U_C5
- updated shader options, added configurable screen columns
- added shader options value formatting (prefix and suffix)
- added support for local player models
- fixed Forge custom sprite loading with dependencies (Tinkers Construct)
- enabled shaders program "gbuffers_beaconbeam"
- fixed Smart Leaves not culling when decayable state is different
- fixed memory leak in cape download
- fixed shaders to load files only from the shader pack
- added font alpha blending
- fixed shader options crash on right click
- added custom underlava fog colors
- fixed Lagometer with Forge
- fixed Random Mobs to use entity UUID in multiplayer
- added Better Grass option "grass.multilayer"
- compatible with Forge #2424
(27.07.2017)
Optifine Changelog Source: Optifine.net
Optifine HD 1.12.2/1.12 Editions
Optifine HD Features
below you will find some great features that optifine provides. 
Support for HD Textures (info) - HD textures and HD fonts (MCPatcher not needed) - custom terrain and item textures - animated terrain and item textures - custom HD Font character widths - custom colors - custom block color palettes - custom lighting - unlimited texture size
FPS boost - The FPS-Boost will double your FPS in common - moreover it decreases lag spikes and smooths gameplay
Support for Shaders - OF is based on the Shaders Mod by Karyonix
Configurable Smooth Lighting - 
How to install Optifine 1.12.2, 1.12.1, 1.12, 1.11.2 and 1.11.1?
Our Optifine 1.12.2, 1.12.1/1.12, 1.11.2/1.11 Installation Guide can be found below. If you still need some support feel free to ask our community in the comments below. We and our community will try our best to help you!
Install Minecraft Forge.
Search for your minecraft application folder.

Press WIN+R then type in %appdata% and click Run.
Hold down ALT and click on "Go" in the top menu bar. After that you have to open a folder named "Application Support" and look for "Minecraft" to continue.Open the folder Application Support and look for Minecraft.

After that just place the Optifine mod you have just downloaded (.jar file) into your Minecraft "Mods" folder.
Now launch Minecraft and click on the "mods" button to see that the mod installation was successful.
Enjoy! 🙂
Optifine 1.12.2, 1.12.1, 1.12, 1.11.2 additional Features
Antialiasing - Smooths jagged lines and sharp color transitions - AA level - OFF, 2, 4, 6, 8, 12, 16 (depends on hardware support)
Better Grass Fixes grass blocks side texture to match surrounding grass terrain
Better Snow Fixes transparent blocks textures to match surrounding snow terrain
Clear Water Clear, transparent water with good visibility underwater
Custom Sky Use custom textures for the day and night skies. Multiple layers, blending options, time configuration.
Random Mobs Use random mob textures if available in the texture pack
Connected Textures Connects textures for glass, glass panes, sandstone and bookshelf blocks which are next to each other.
Natural Textures Removes the gridlike pattern created by repeating blocks of the same type. Uses rotated and flipped variants of the base block texture.
Faster Math Uses smaller lookup table which fits better in the L1 CPU cache
FPS control - Smooth FPS - stabilizes FPS by flushing the graphics driver buffers - Smooth Input - fixes stuck keys, slow input and sound lag by setting correct thread priorities
Fast Texturepack Switching 
Debug
Time Control
Autosave 
Optifine HD 1.12.2/1.12 Download for Minecraft 1.12.2, 1.12.1, 1.12, 1.11.2, 1.10.2...